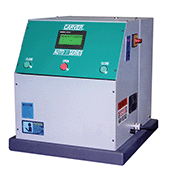 Add Power to Your Manual Press with Autopak
Laboratory Press Parts and Accessories for Carver Presses

A self-contained, 1/4 HP electrically operated automatic power unit is available for retrofit to existing Carver manual presses. Develops maximum clamping force for most 12, 25 or 30 ton models (minimum 1,000 lbs). Featuring the new "NE" digital control system. Its compact bench design is just 24" L x 20" W x 21" H, 130 lbs.The new (NE) control system (pressure only) features touch screen interface, 10 recipe storage capability with 20 programmable segments of clamp force and dwell time per recipe. Programmable in units pounds (also available in Kg, US tons, and metric tons). Automatic bump sequence (able to be programmed in any/all segments). Six feet of hose for connection to existing Carver hand operated press. Two-hand "anti-tie-down"close buttons for operator safety. Also, includes safety shield with interlocking safety door switch.

Calibration Options Available
Force calibration (p/n 1525.00001) by instruments traceable to NIST are available for new equipment.

Catalog Number
Model
Capacity (tons)
Control
3946-NE
AutoPak/12
12
Programmable
3947-NE
AutoPak/25
25
Programmable
3948-NE
AutoPak/30
30
Programmable
Reference Customer (กดที่โลโก้ เพื่อดูเว็บไซต์ของลูกค้าที่สั่งซื้อสินค้ากับทางบริษัท)​
อยู่ในระหว่างอัพเดทข้อมูล...