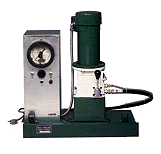 Convert Manual Presses to Automatic with Motor Pak
Laboratory Press Parts and Accessories for Carver Presses

Convert hand operated presses to automatic operation with Motor Pak™ power units. Carver Motor Pak power units include electronic speed control and two-hand "anti-tie-down" buttons for operator protection on two models. A standard Motor Pak and a Time & Pressure Release Motor Pak. They both have 1/2 hp D.C. permanent magnet motor, two-stage hydraulic pump. Pre-selected force setting is maintained automatically. Externally adjustable Solid-state motor speed control. External control valve and internal relief valve. Connecting hoses with an array of fittings and hardware also included. The Time & Pressure Motor Pak also comes with a digital timer and automatic pressure release operating valve. Please specify voltage and tonnage when ordering.

Catalog Number
Model
Capacity (tons)
2759
Standard MotorPak
Specify Model and Serial Number of manual press
2822
Time & Pressure Release
Specify Model and Serial Number of manual press
Approximate Dimensions: 22" x 8.5" x 24" Weight: 135 lbs
Reference Customer (กดที่โลโก้ เพื่อดูเว็บไซต์ของลูกค้าที่สั่งซื้อสินค้ากับทางบริษัท)​
อยู่ในระหว่างอัพเดทข้อมูล...